Administrative Support Assistant III Janice Brown is no stranger to staying committed to a career. For the past 35 years, she has proudly served for the Alabama Bureau of Pardons and Paroles. Her service is evidence of true dedication to making a difference in Alabama communities. In 2000, Brown was even selected as ASA of the Year.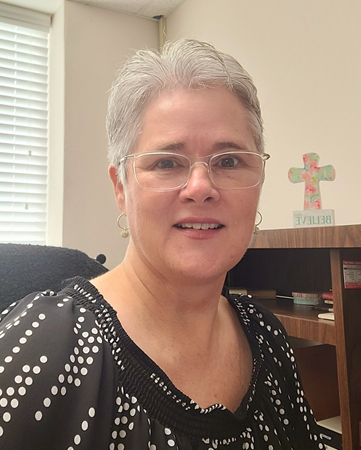 Brown's ABPP career began in June 1986 with the Butler Field Office, where she has remained. Prior to the Bureau, Brown worked as a secretary for the Choctaw County Sheriff's Department. It was there where she was introduced to several Probation and Parole Officers and grew interest in working for the Bureau.
When asked about her favorite part of the job, Brown shared that she enjoys meeting people who come to the field office for supervision. She said, "I try to listen to them and let them know that this doesn't have to be the end for them. I want them to know that they can break the cycle of criminal activity in their family, but it takes will and determination."
The last three decades include countless stories Brown will continue to reflect on. One of her favorite memories is when a past probationer came to visit her. He thanked her for the encouragement and kindness she showed him while at the field office. He shared that her motivation helped him believe he could change his way of living into something meaningful. The last time Brown saw him, he was in the United States Marine Corps.
Brown's experiences provide an opportunity for current employees to gain advice. When asked what she would share with the Bureau, Brown said, "Early in my career, I remember having conversations with fellow employees about how one day we would be the 'older crew,' and now that title is upon me. I would encourage new employees as well as current ones to stay the course because 35 years has certainly passed quickly for me. Try to establish and keep open communication with your co-workers – you never know when you'll need them!"
Over the years, Brown has had the pleasure to work with many officers and court personnel who have made a positive impact on her. "I have learned so much from each of them," Brown said. She credits Officer-In-Charge Donald Green of the Chatom Field Office for being one of her role models.
A native of Alabama, Brown was born in Butler and graduated from the local high school. She married her high school sweetheart, Jerry, in 1983. They have one daughter, Alison. Alison and her husband, Curtis, have two children. Since 1994, Brown and her family have attended Moseley Bridge Church in Gilbertown, Ala. She teaches Sunday School and serves as Secretary/Treasurer, a position she has held since 2008. Brown shared that her faith provides tools of boldness and strength, which she has used in her job.
The Bureau thanks Brown for exceptional service and congratulates her on reaching a career milestone.