The Alabama Bureau of Pardons and Paroles has opened a new Day Reporting Center Lite in Guntersville to help local former inmates transition back into the community.
Day Reporting Centers (DRCs) are vital in providing probationers and parolees the tools and resources they need to prevent and reduce recidivism. The DRCs provide more intensive supervision of participants, who have access to a variety of services such as cognitive behavioral therapy, intensive drug treatment counseling and adult education services.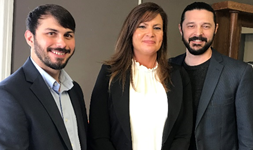 A Day Reporting Center Lite serves 25-30 clients, while a full DRC can serve up to 150. DRC Lites are typically housed within field offices.
Despite serving a smaller population they have their own staff and can provide the much of the same support as full DRCs.
Additional DRC Lites are being planned to open in the upcoming months.
The grand opening event for DRC Lite in Guntersville highlighted programs offered, the people who make it a success, and testimonials from the former inmates who are changing their lives with the help of the men and women of the Alabama Bureau of Pardons and Paroles.
DRCs not only provide a future for participants, but they also benefit communities. Families are restored, recidivism falls, and public safety is improved.
The address of the new DRC Lite is 2209 Ringold Street, Guntersville, AL 35976