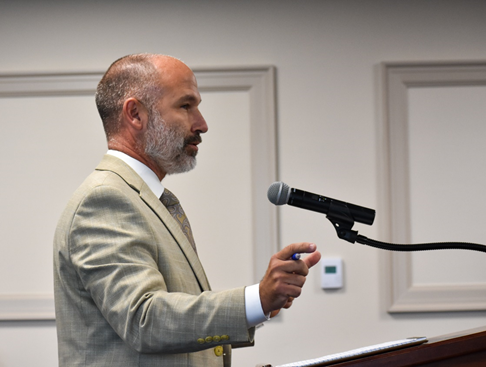 Leaders from State of Alabama agencies joined on Tuesday for the second Commission on Reentry meeting. The Commission focused on finding solutions for inconsistent data sharing across agencies to reduce recidivism – when previously incarcerated individuals return to prison.
Commission Chair Cam Ward and Deputy Director of Parolee Rehabilitation Rebecca Bensema opened the meeting.
Members of the Commission include Alabama Department of Corrections Commissioner Jeff Dunn, Ingram State Technical College President Annette Funderburk, Senator Will Barfoot, and Representative Connie Rowe, along with leaders from the Alabama Department of Mental Health, the Alabama Law Enforcement Agency, the Alabama Department of Veterans Affairs, the Alabama Department of Labor, Medicaid, and the Governor's Office. Additional representatives at the meeting included the Alabama Department of Human Resources, the District Attorneys Association and the Office of Prosecution Services.
Executive Director of Alabama Sentencing Commission Bennet Wright and ABPP Statistician Manager Dr. Jessica Gratz spoke to the Commission. Wright discussed the issues Alabama faces regarding systems used to track offenders and share offender information.
Wright said, "The big obstacle in Alabama is there is no single unique identifier that travels across the system."
Gratz focused on useful programs for sharing relevant offender information across state agencies. She explained how the Bureau's Information Technology Department expanded their offender management resources over the past five years. The Bureau is still in the process of completing all phases of the expansion process.
"If you have an adaptable IT structure, there's really no limit on what we can do as a state," Gratz said. She, like Wright, said the priority should be to choose a universal identifier to keep the data consistent.
The Commission planned to vote on a consistent identifier for offenders at the next meeting.
The primary goal of the Commission, adapted from Section 3 of Alabama Senate Bill 221, is identifying, implementing, and promoting evidence-based research, policies, strategies, and programming to support successful reentry and reintegration.
Additional meetings are planned, and important developments from the Commission will be reported in future releases. The next meeting is tentatively scheduled for the week of August 16.