Leaders from State of Alabama agencies met Tuesday for the first Commission on Reentry meeting of 2022. Newly appointed Alabama Department of Corrections Commissioner John Hamm attended and was introduced to the committee.
Much of the meeting examined the accompanying Commission on Reentry Findings, Conclusions and Recommendations report submitted for 2021. Notable discussion based on the report included:
Furthering development of a strategic plan for safer communities.
Planning subcommittee meetings for data sharing, workforce development and mental health support programs.
Developing and expanding educational and support programs.
Monitoring rearrests, community supervision violations and ADOC incarcerations to accurately monitor recidivism rates.
Making a timeline for future committee action.
"One of our missions at the Bureau of Pardons and Paroles is to help reduce recidivism in Alabama and provide a healthy reentry opportunity to the formerly incarcerated. The Reentry Commission has shown through the work of multiple cabinet agencies, advocates and public safety officials that we have a real opportunity to bring about reform to our reentry system in our state. I look forward to our working with these partners going forward to bring about significant recidivism reduction in our state," said Bureau Director Cam Ward
Workforce development was also a key focus for the Commission, with discussion of a developing project to connect employers with potential justice-involved employees. Ingram State Technical College President Annette Funderburk discussed trade and apprenticeship programs currently being developed.
Kyes Stevens, Director of the Auburn University's Alabama Prison Arts + Education Project, introduced a visiting Fulbright scholar from Australia's Northern Territory who is completing a project on arts and education within Alabama's criminal justice system.
Members plan to continue Commission on Reentry meetings until at least February 2023.
Due to COVID-19, the Changing the Course art exhibit reception, initially planned for January, has been postponed to a later date. Art instillations may be viewed at the Alabama Department of Archives & History beginning Feb. 7, 2022. Updates will be provided in a future news release.
Members of the Commission include Alabama Department of Corrections Commissioner John Hamm, Ingram State Technical College President Annette Funderburk, Alabama Department of Mental Health Commissioner Kimberly Boswell, Senator Will Barfoot, and Representative Connie Rowe, along with leaders from the Alabama Law Enforcement Agency, the Alabama Department of Veterans Affairs, the Alabama Department of Labor, the Alabama Department of Human Resources, Medicaid, and the Governor's Office.
The primary goal of the Commission, adapted from Section 3 of Alabama Senate Bill 221, is identifying, implementing, and promoting evidence-based research, policies, strategies, and programming to support successful reentry and reintegration.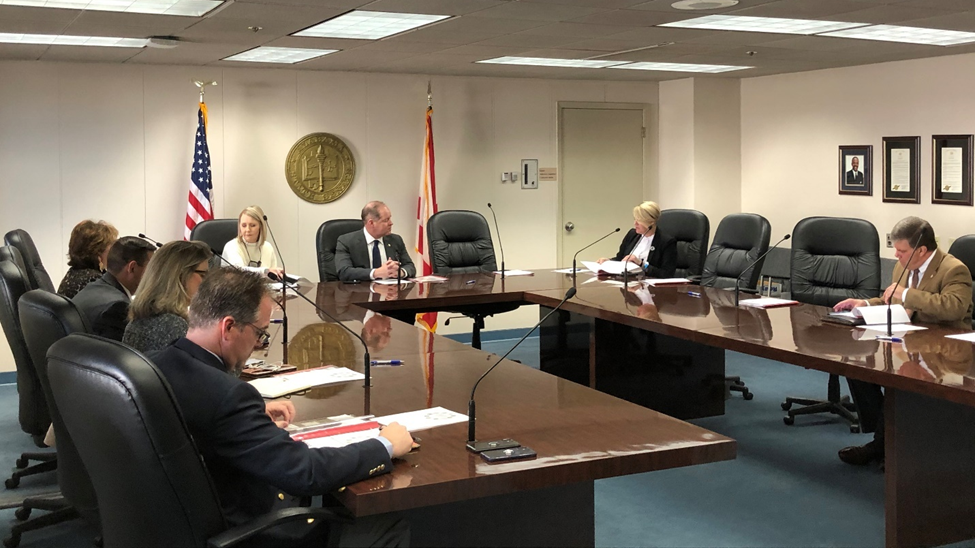 Commission on Reentry sharing ideas for reducing recidivism in Alabama.