MEDIA ADVISORY FOR EVENT ON:
Friday, October 6, 2023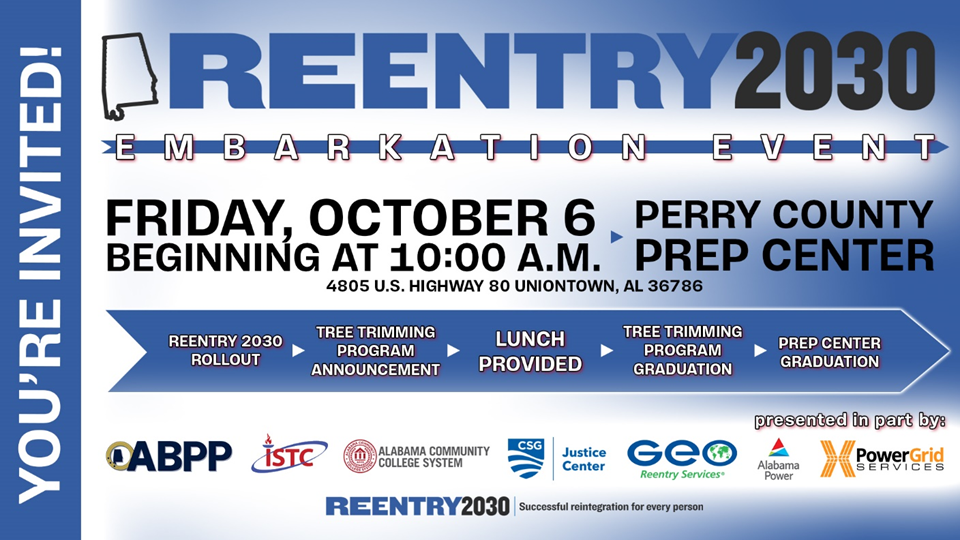 Bureau to Host Reentry 2030 Embarkation Event
UNIONTOWN, Ala. – The Alabama Bureau of Pardons and Paroles will host a celebratory Reentry 2030 Embarkation Event at the Bureau's Perry County PREP Center in Uniontown, Ala. on Friday, October 6.
Partner agencies, nonprofit community partners, employers, successful PREP Center participants, Bureau officers and more will be in attendance. Business leaders will be present to announce partnerships to hire formerly incarcerated employees in skilled positions.
In addition to special guest speakers celebrating Alabama's entry into the initiative, the event will feature a Tree Trimming Program announcement and graduation from J.F. Ingram State Technical College President Annette Funderburk, as well as a separate ABPP graduation for people on probation and parole who have completed the PREP Center program.
Lunch will be provided. Media members, community partners and all interested individuals are welcome to attend.
Reentry 2030 is a nationwide initiative aimed at scaling reentry success for people transitioning from incarceration to their communities. Through this initiative championed by Bureau Director Cam Ward, Alabama aims to reduce recidivism rates by 50 percent by 2030. Visit Reentry2030.org for more information and updates. Additional details will be reported in a news release the day of the event.
WHO:
Director Cam Ward, J.F. Ingram State Technical College President Annette Funderburk, The Council of State Governments Justice Center, Alabama agency leaders, successful PREP Center graduates, business leaders, stakeholders and other special guests.
WHAT:
Reentry 2030 Embarkation Event
Includes Reentry 2030 Rollout, Tree Trimming Program Announcement, Tree Trimming Program Graduation, PREP Center Graduation and lunch.
WHEN:
Friday, October 6, 2023 beginning at 10:00 a.m. Central Daylight Time
WHERE:
Perry County PREP Center
4805 U.S. Highway 80
Uniontown, AL 36780
---
Media members are welcome to attend. Please RSVP your attendance by sending an email to the contact information provided below. We look forward to your presence.
Contact:
Matthew Estes
Communications Director
matthew.estes@paroles.alabama.gov